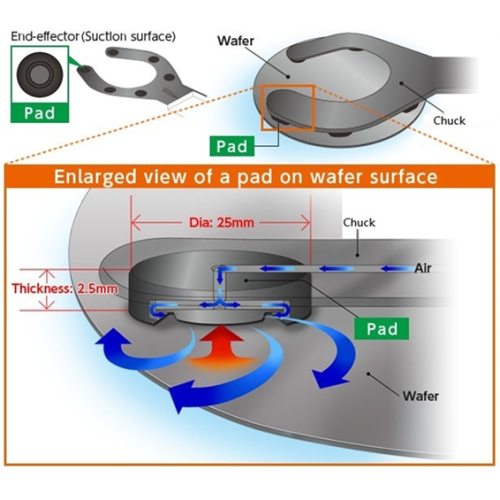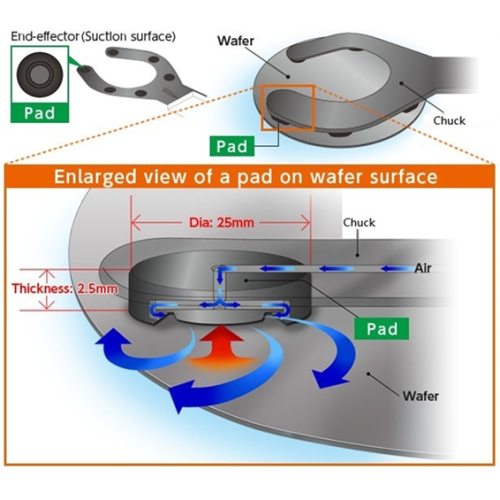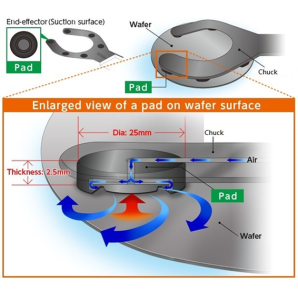 BRAND: JEL
DESCRIPTION:

Nation of Principal:Japan
The Mechanism of the Bernoulli Type End-Effector:
Air entered from the supply port generates the Cyclone effect.
Supply air is discharged to the atmosphere between the suction surface and the wafer.
As a result, an air layer is generated between the cyclone pad and the wafer,
which enables to lift the wafer without contact.






Characteristics:
Bernoulli pad type or Cyclone pad type is able depending on the wafer condition

①Bernoulli pad type
1.Low cost end-effector for thin or warped wafers
2.Capable to handle various sizes or types of wafers
3.Wafers can be lifted with low stress to minimize damage
4.Thickness of the end-effector can be reduced

②Cyclone pad type
1.Cyclone pads (Dia: 25mm; Thickness: 2.5mm) are used
2.Capable to handle various sizes or types of wafers,
3. and available for the Bernoulli type aligner
4.Stronger holding of wafers compared to the Bernoulli type end-effector